IV.5. La GTV-6, encore en course !:

Même après la saison 1986, la GTV6 a continué à courir, d'abord dans divers championnat, ensuite en historique (circuit et rallye) ou simplement pour se faire plaisir!
Voici la fiche d'homologation conforme à l'annexe J du code sportif international pour les voitures du groupe 1 à 5 (21 pages). Many thanks to Martin Richter, the present owner of Franz Klammer GTV6.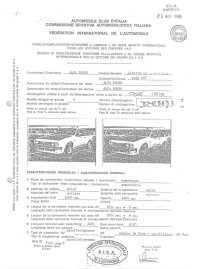 6,9 MB

GTV6 course
FISA

Homologation
IV.4.1. En rallye :
Laurent Martino

2007




Flock/Flock

Boucles de Spa 2007

Flock/Flock

Boucles de Spa 2007

Flock/Flock

Boucles de Spa 2007

Flock/Flock

Boucles de Spa 2007

Flock/Flock

Boucles de Spa 2007

IV.4.2. Sur circuits :

Une dédicace spéciale à la superbe GTV6 de Ron Simons. Voici la petite histoire de la voiture de Ron, écrite par Ron lui-même (visitez son site):
" From European Champion into European club racing :
Since more than 10 years RSRacing is running the ex- Lella Lombardi and ex- Giorgio Francia group A Alfa Alfetta GTV6 in clubracing, demonstration events and several other outings. Since it's restoration and preperation the car has won an enormous amount of races on tracks like Zandvoort, Zolder, SpaFrancorchamps, Monza, Magny Cours and the Nurburgring both the GP and the Nordschleife track.

1. Alfa Romeo in touring car racing 1982- 1985 :

In 1981 Alfa decided to join the international touring car championship with it's all new V6 engine in the old Alfetta GTV. Alfa's racing department 'Auto Delta' contracted the tuners Imberti from Italia and Luigi Racing from Belgium. Both companies worked on the special parts within and just over the limits of the group A regulations and Auto Delta on their part, took care of the homologation papers. The engine reached 235 HP at 6750rpm and the drivers where able to go upto 8000 rpm.

2. Luigi Racing :

At the start of the season 1982 both tuners prepared 6 cars in total for the division 2 with cars upto 2500cc. Luigi racing won the tittle for three years in a row with the yellow GTV6. In 1982 Michelangeli and Cremer won the tittle. 1983 it was Drovandi and in 1984 it was no less than test driver Giorgio Francia and the ex-Formula one star Lella Lombardi who won the tittle. Only in 1985 Imberti won the tittle with sponsoring from Jolly Club. In those dominant 4 years there where races where Alfa was even stronger than the way faster division 1 cars from BMW (635i), Jaguar (XKJ), Volvo (Turbo's) and Rover. Drivers in the division one where Gerhard Berger, Hans Stuck, Martin Brundle, Thierry Boutsen, Johhny Cecotto, Hans Stuck and Bob Wollek.The Luigi car where timed at 1.57 on the Zolder track and 3.03 min on Spa Francorchamps. Because of the better tyres, better brakes and a bigger engine times are now 1.46 for Zolder and 2.47 for Spa Francorchamps.
The first contacts with Luigi date back in December 1993. Luigi had one of the 'old' championship car's in his workshops and was willing to sell the car into private hands.It was the car with the serial LR8512 (stands for Luigi Racing 8512). It was the tittle contender for 1985 succesfully driven to the tittle by Lombardi and Francia. The white car was in the Boule D'or coulours and white.

3. The international Trofeo Alfa Romeo (Alfa Romeo Challenge) championship :

Back then the GTV6 was way to young for historic racing and also to young for youngtimer racing which run car's till 1976. But it fitted right into a new European setup class for Alfa only. Soon this Alfa Romeo Challenge was one of the hottest classes in Zandvoort. The class received invitations from all kind of events on all kind of tracks in Europe.

4. Running costs and cost of ownership of alfa's in the eighties

Since I was a student I always drove Alfa's because it was a cheap car when second hand. My first alfa was a Alfa Alfetta GTV fitted with 2000cc alfa nord engine. Rust was all over the car but the package was a strong runner. After 4 years I switched to the V6 which also changed hands for small money. I still run an 1985 silver two-tone GTV6 but now fitted with the old racing engine from the Luigi car. In evolution we managed to gain performance uptill 260hp with cosworth pistons and a haltech engine management system. The car is capable of over 8000rpm. If you consider we run a 75TS transmission 10/41 then you know that every 1000rpm is appr. 35,2 km/h with the 225 tyres we are using, then you know its over 280kmh fast!!!!!!!!!!!!!!!

5. The luigi LR8512

From under the sheets the view was a dusty half white half yellow GTV6. Missing was the engine. What was there at first sight was the short steering rack, a huge radiator and a huge airflow meter. Lot's of brake pads for the twin-caliper AP racing front brakes. Central Lock BBS type wheel connectors and OZ Racing wheels all over the place. The brakes on the rear are inboard for a better unsprung weight. The later version, the Alfa 75Turbo they decided to bring the rear brakes outboard for better cooling. Air jacks where fitted, and the big 24 hour race tank was in the back with an air outlet and a fuel inlet. All suspension components where in Alloy and the ride height is fully adjustable. If you take a real close look at the car you see all kind of 'cheeting' by the alfa tuners who, in some way, where the first competition. The car sits way lower over it's suspension. All arm's are perfectly straight so they must have changed the starting point in the chassis. The engine sits further back in the engine bay etc. etc. Even after 2 years of running this car we still saw new things which where far from original and far from the wrong edge off the group A regulations. The previous owner off the LR8512 never showed up after he brought the car in for the next preparation. After 2 years the government claimed the car which was owned by, what got known then, by a criminal who had murder on his hands. The old owner could use the car anymore because he was in jail for the next 20 or so years. Luigi was a smart guy as Italians are. He presented a bill to the Belgian government with preperation costs and the cost of having the car in his workshop for 2 years. In the end Luigi had the car back in his hand for free and I had I feeling I paid way to much money. However everything has it's price and when I look back now, it's one of the finest alfa's in original race trim with a big big history.
Now the car is fitted with a 3500cc 24 valve engine on a programmable engine management. 325 hp and 380Nm torque from as low as 1800 rpm makes the car really fly. The suspension system is upgrades with coilover springs over the shocks at the front. The car is still very competitive and still able to win races in the new Alfa Romeo Challenge against competition from the much sophisticated and way stronger Alfa 75 IMSA turbo cars."
Many thanks to you Ron for this story and some of the following pictures!
Ron Simons

Ex- Giorgio Francia (ETCC 1985)

Zolder 199?

Ron Simons

Ex- Giorgio Francia (ETCC 1985)

Zolder 199?

Spa 2002

Spa 2002

Spa 2002

Zandvoort 2003

Zandvoort 2003

Spa 2003

Spa 2003

Spa Italia 2004
La GTV6 du RS-Racing Team sur le Nurburgring :

* En France : une autre GTV6 de circuit et qui tourne plutôt bien, c'est celle d'Alexis WALTER, de la Scuderia Del Biscione :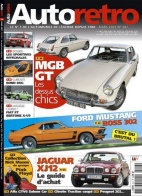 2,2 MB
GTV6 saloon car
France
Auto Retro
2007
N°307 p 68 à 71
Quelques vidéos extraites du site de la Scuderia Del Biscione (que je vous invite à visiter!), entre autre un tour à Spa avec Alexis Walter :
Et à Dijon, toujours en 2009 :

* En Australie, la GTV6 "Dulux" courait il y a peu encore :


2005 (Philipp Island Historics) :
Queensland raceway

* En Italie, Bruno Bentivogli fait toujours courir la GTV6 avec laquelle il a été champion d'Italie !
Bruno Bentivogli su Alfa Romeo GTV6 durante la PS9 Valle Di Teva del Rally Legend 2008
Bruno Bentivogli et Michela Graziato sur Alfa Romeo GTV6 lors du 23° Rally Piancavallo, 23 et 24-10-2009 (7ième au général) : plusieurs extraits



(partie 1:40 - 1:5')


(parties 0:56 - 1:06 / 4:56 - 5:08 / 8:04 - 8:21)


(parties 2:28 - 2:38)


(parties 1:27 - 1:44 / 5:47 - 5:56 )




(parties 3:15 - 3:32 / 5:08 - 5:13 )

ND

GTV6 Super Production
France
GTI-TECH
2011
N° 3
p 18-23



3,2 MB

GTV6 course
Angleterre
AutoItalia
1996
Nr 7
p20 à 24

Une GTV6 utilisée dans les années 80 dans le championnat britannique, dont le moteur a été transformé (cylindrée poussée à 3,3 litres!) et qui etait utilisée couramment dans des courses de la fin des années 90!

Timmermans

Spa Italia 2004

Thanks to Wim

Max Arnold

GR1, Zolder 2005

Thanks to Wim

Thomas Seyffarth

GR1, Zolder 2005

Thanks to Wim

Martin Richter

GTV6 ex-Franz Klammer

Zolder 2005

Thanks to Wim

Martin Richter

GTV6 ex-Franz Klammer

Zolder 2005

Thanks to Wim

Martin Richter

GTV6 ex-Franz Klammer

Zolder 2005

Thanks to Wim

Martin Richter

GTV6 ex-Franz Klammer

Zolder 2005

Thanks to Wim


Martin Richter
GTV6 ex-Franz Klammer
Nordschleife 2006

Martin Richter

GTV6 ex-Franz Klammer

Spa 2006

Martin Richter

GTV6 ex-Franz Klammer

Spa 2006

Marc Van Doorslaer

GTV6 ex-Delepine (Gr N)

Belcar 10 H Zolder 2006

Thanks to Wim

Marc Van Doorslaer

GTV6 ex-Delepine (Gr N)

Belcar 10 H Zolder 2006

Thanks to Wim

Marc Van Doorslaer

GTV6 ex-Delepine (Gr N)

Belcar 10 H Zolder 2006

Thanks to Wim

Marc Van Doorslaer

GTV6 ex-Delepine (Gr N)

Belcar 10 H Zolder 2006

Thanks to Wim



Timmermans
Spa Italia 2007